Most Sought After Kitchen Amenities
Do you want to sell your home faster & get a higher selling price?
Kitchens have always been the heart of the home, for gathering, entertainment, and nourishment. Zillow research proves today's kitchen is still the at the top - 6 of the top 10 features in homes that sold for more than expected in 2017 and 2018 were "high-end, chef-inspired kitchen amenities."
Whether you are trying to decide if it is worth remodeling to include trendy amenities or if you already have these features in your homes, you need to highlight them in your listing descriptions!
Top Feature to Sell Over Asking Price
One example from Zillow research states that listings that mentioned a steam oven earned the highest sale premium of all the keywords analyzed: 34% more than the expected sale price. It is clear that buyers are willing to pay more for a home with the kitchen of their dreams.
Features That Help Pull More Money & Sell Faster
Zillow found that mentioning a "Shed/Garage Studio" helped homes sell for 26% more and eight days faster than expected. The words "Exposed Brick" yielded 22% more and sold nine days faster! "Mid-Century" design style received 17% more and sold 11 days faster.*
*To identify home features and design styles that garnered a higher sale price or faster sale (based on the home's basic traits and location), Zillow analyzed listing descriptions from 4.6 million home sales around the country that were posted in 2017 and 2018.
Zillow's Research Findings: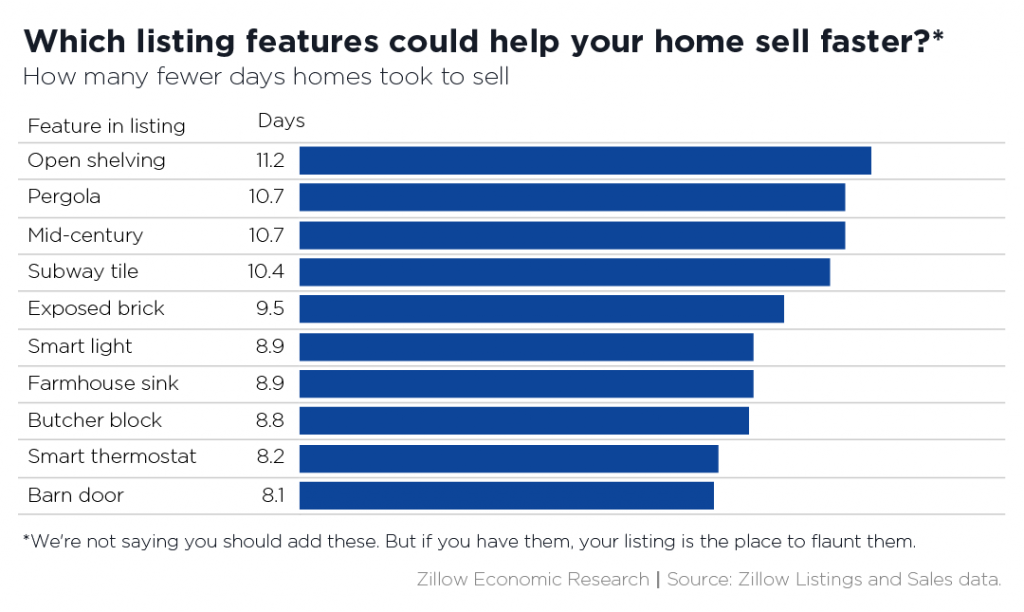 Information Source: "These Kitchen Amenities Can Boost Your Home's Sale Price" by Nancy Robbers JUN 17 2019. Zillow.com/resources/new-construction/amenities-boost-home-sale-price